2021 Still Sucks
I had a rough start to the new year and road trips took a bit of a drop in my priority list. I also realized that my timing belt was already beyond the recommended lifespan, and I figured with the number of times I hit 7000 RPM on a road trip I was sure to nuke the engine if I tested my luck. The process of getting the swap done wasn't terrible but I did end up having to cut the bolt for the tensioner as the head had stripped. I do keep a decent collection of Honda OEM bolts from years of junkyard runs so this wasn't a big deal. Once I had everything back together, I did a few small trips around the local highways and trying to figure out new places to visit. Unfortunately I also discovered my front tires were also in horrible condition so I needed to order new tires to be installed. Around this time I also started noticing some strange noises coming from the transmission, though the car did still seem to operate normally. I had previously done a mix of Honda MTF and GM Synchromesh as the shifting had felt "notchy" so to be safe I went back to 100% MTF. This made no difference, and everything went to hell not long after this…
British Columbia is basically on fire, and I lost my clutch entirely.
The car would no longer shift into gears with the engine running unless I rev matched. Unfortunately this happened while I was in another city so I ended up taking every possible back road for my return route as I was not able to stop the car. This took the CRX off the road completely until I could book in my shop time and investigate the problem. This would take over a week as I had to pull the engine out of the car to remove the transmission.
Back in the D-series days I could simply tilt the engine down on one side to swap a clutch but this thing had absolutely no room. Luckily the problem was very obvious when I cracked the transmission open.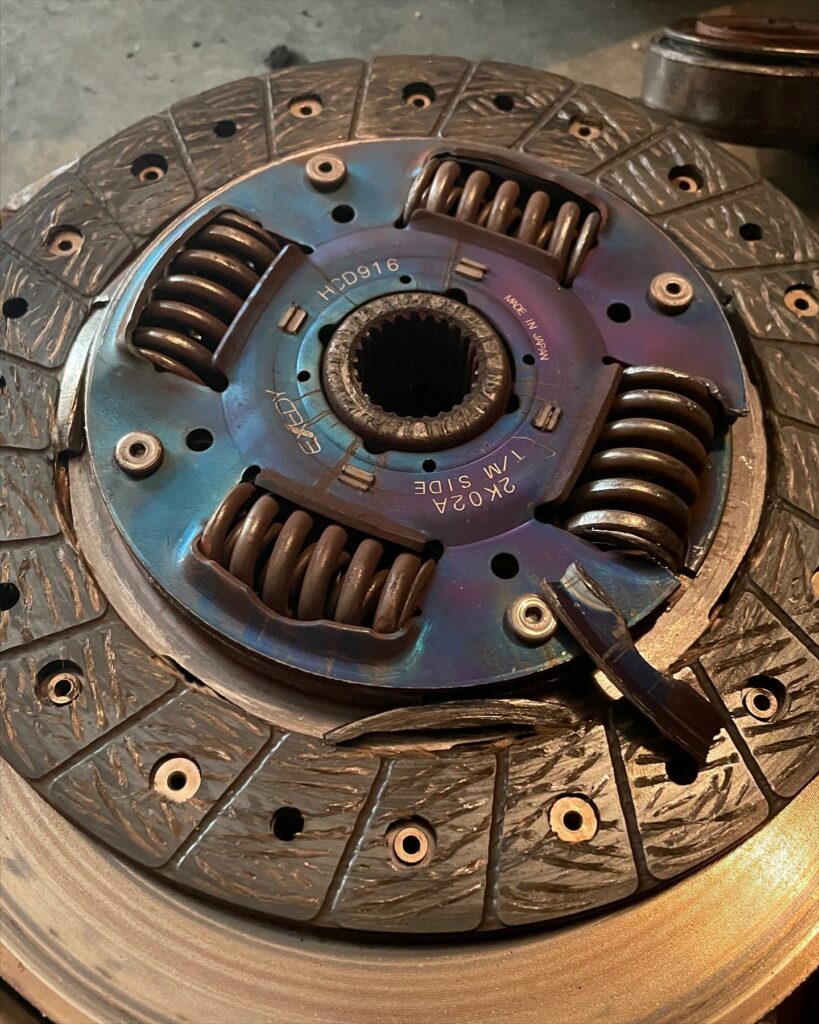 Typically one does not find random pieces of metal embedded into their clutch. I was at least happy to find the cause was the clutch as I already had a replacement kit on hand, and I was not in the mood for dealing with a faulty transmission.
The new kit installed no problem, but I did actually have to go buy a stronger air impact to get the flywheel bolts off as I had decided to loctite them during the original install…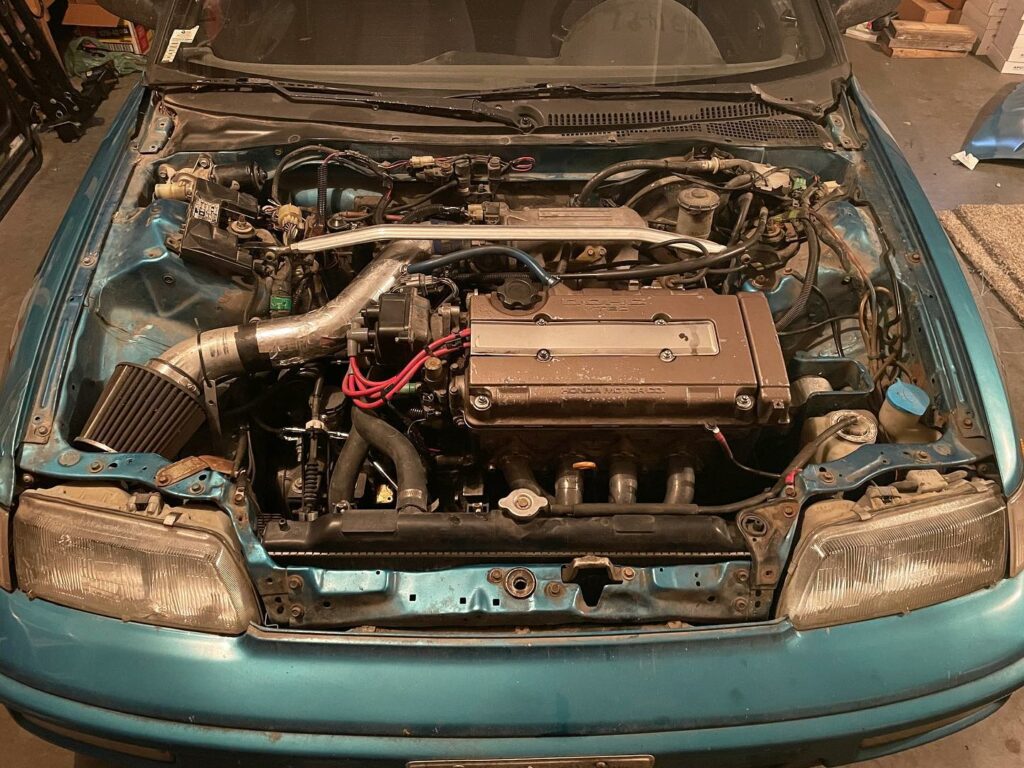 This was after the car was reassembled (except the hood) and I had just done a quick test drive on my street to ensure that the clutch was working good.
This last shot was my first road trip on the new clutch to get the break-in done. I took the route south of Kelowna through to Princeton and up 5A to Merritt and Kamloops. This spot in particular was probably the only area with blue skies as most everywhere else was covered in wildfire smoke. I do still have some weird things to work out with the car, such as the fact I accidentally smashed a fuel injector clip during the motor reinstall and it's presently held on with zip ties… I was also really hoping to actually fix the rear toe so I don't eat tires every few months, but with the bolt not moving I'll likely need to start cutting holes to reach the other side of it.
With the current state of this province I'm not expecting to get any real fun trips this year before winter comes around.
---