My Car
By Paul

Update: I now have a 91 CRX Si with a B18C1 swap. I've also switched to a 98 Toyota Camry as a daily driver to replace the Cadillac.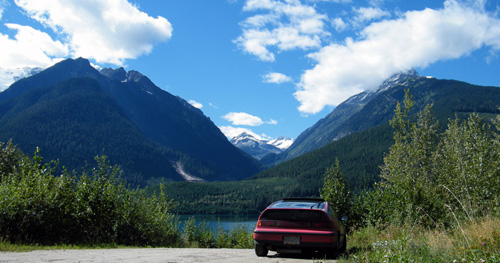 My primary vehicle is a 1989 Honda CRX Si. I purchased it a few years ago and realized soon after that the stock D16A6 motor in it was pretty shot and burned too much oil to be practical. To fix this, I bought a low mileage D16Y7 and rigged it to run in the car:
With this new motor, I was able to start hitting the highways and before too long I was pulling all day trips to various destinations across the province and also into neighbouring Alberta. Take a look at the "Where I've Been" page to get an idea of where my travels take me. Mostly my trips take place in the summer, but on occasion I do hit some winter conditions: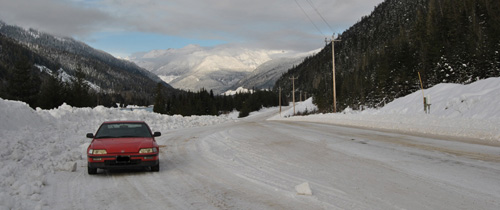 Sometimes I hit this weather on purpose, and sometimes purely by accident. I've driven through storms so bad the visibility was to the end of the hood and doing around 10kph on the Trans Canada, to dangerous black ice conditions on the smaller highways in the middle of the night. I've also ended up on 4×4 only logging roads and various other conditions off the pavement.
My first vehicle used for long trips was a 1988 Honda Prelude Si. Many years passed between owning that and the CRX I currently drive, and I had almost forgotten the thrill of hitting the back roads. My primary experience is with imports, having owned an 88 Honda Accord, 86 Hyundai Stellar, 90 Acura Integra and a 70 Datsun. I did also own and work on an 88 Pontiac Firebird with a 305 and 96 Lincoln Towncar with the Ford 4.6L V8.
What's next? I am currently swapping yet another D16Y7 into the CRX as my road tripping put over 100,000km on my last motor and it started to burn oil badly. The next motor in my garage currently being built as a longer term project is an Integra GSR's B18C1 bored out with forged internals and turbocharged. This will take a while longer to complete though.
To get me by with daily driving while the CRX gets torn apart over and over, I've gone back to the style of car similar to my previous Lincoln Towncar with the addition of a Cadillac Fleetwood Brougham. It isn't exactly a practical car for highway trips but I much prefer it over the CRX for getting around town.