I prefer to own two cars with one being the "fun" type and the other being used for random daily driving and winter use. My "fun" car used for most of my road trips is a 1991 Honda CRX running a custom built B18C1 engine from an Acura Integra GSR. My other current vehicle being used as a daily driver also classifies as a "fun" type but for off-roading.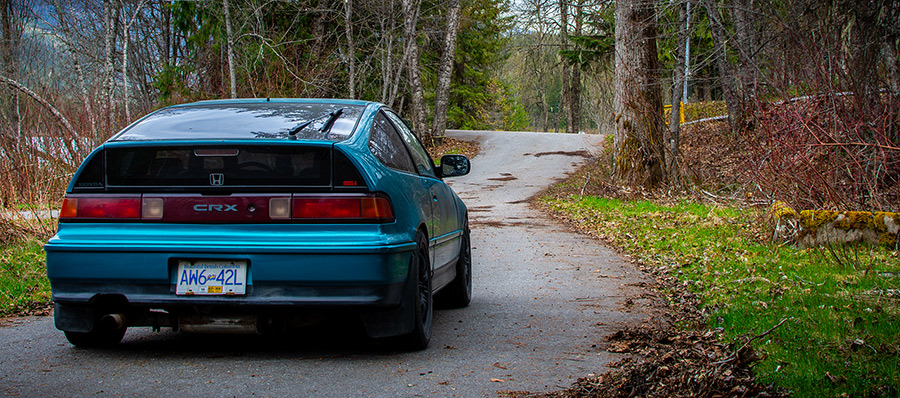 While I do have some complaints such as how uncomfortable it becomes driving this in temperatures above 30C, the raw driving feel of this car makes it fun to drive. As the car is used primarily on the highway, I went with the longer gearing of the Integra LS transmission. I also didn't want to get stuck with a high mileage cable transmission so the car is running a hydraulic transmission with the Hasport CMA kit, adapting my clutch cable to a custom mounted S2000 clutch master cylinder. I found that this setup is not happy when engine bay temperatures start to get hot under hard driving conditions, so the hood scoop directs air to the clutch hydraulics which has mostly solved this issue. I'm sure there's a better solution but this one cost me zero dollars.
My daily driver / winter vehicle is now a 2006 Jeep TJ Rubicon. I don't actually do much daily driving aside from the odd grocery store run, so this rig will be primarily used for off-road adventures and camping.
I've owned a number of cars over the years, but my favorite of them all is a 1988 Honda Prelude as this was the car which got me into road tripping and learning the mechanical side of things. Here's a complete list of my vehicle ownership:
1991 Honda CRX Si – B18C1 swapped summer car (current)
2006 Jeep Wrangler TJ Rubicon – Daily driver and off-road/camping rig (current)
1998 Toyota Camry – Daily driver / winter car. Was cheap to buy and a total beater.
1994 Cadillac Fleetwood Brougham – Black on black with tinted windows and LT1 powered. Was a daily driver until the optispark died and wasn't worth the repair.
1990 Acura Integra – Got this for free and it became a daily driver after the 89 CRX was off the road. Gave it away after buying the Cadillac.
1989 Honda CRX Si – D16Y7 swapped since the original motor was abused to death. Got flagged by police for inspection and I scrapped it after buying the 91 CRX.
1996 Lincoln Towncar – Needed this as a daily driver while performing the engine swap on the above CRX.
1988 Pontiac Firebird – V8 305 TBI, daily driver after the Datsun fell apart.
1970 Datsun 521 – Neat old truck but was having carb issues until one day it dumped all the fuel out onto the exhaust manifold
1988 Honda Prelude Si – Daily driver and I did some interesting mods to this car including a digital dash from a Mazda. Flagged for inspection and clutch was toast so car was scrapped.
1986 Hyundai Stellar – Paid $500 for this heap of garbage so I could learn 5-speed before buying the Honda Prelude.
1988 Honda Accord EX-i – First car, ended up selling for cheap after it lost 4th gear and the heater core leaked all over.